Banned Book Club- Persepolis – with Cllr Maryam Eslamdoust, Mayor of Camden
18 March @ 7:00 pm

-

9:00 pm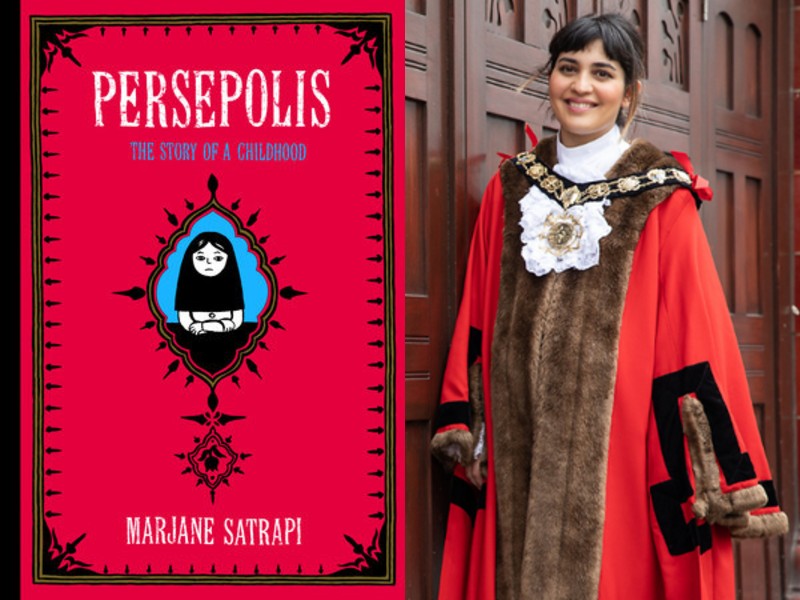 This month's banned book is the graphic novel Persepolis by Iranian graphic artist Marjane Satrapi
This is a very special event as it coincides with Nowruz (Persian New Year) and will feature special guest speakers:
Cllr Maryam Eslamdoust, The Mayor of Camden and the first Iranian-born woman ever elected to public office in the UK.
Rachel Ball from Ladeez Do Comics discussing her graphic novels The Inflatable Woman and Wolf.
Diana Nammi, founder and Executive Director of IKWRO (Iranian and Kurdish Women's Rights Organisation).
There will also be Iranian food available with proceeds going to support our community library.
About this month banned book Persepolis:
The intelligent and outspoken child of radical Marxists, and the great-grandaughter of Iran's last emperor, Satrapi bears witness to a childhood uniquely entwined with the history of her country. Persepolis paints an unforgettable portrait of daily life in Iran and of the bewildering contradictions between home life and public life.
Amidst the tragedy, Marjane's child's eye view adds immediacy and humour, and her story of a childhood at once outrageous and ordinary, beset by the unthinkable and yet buffered by an extraordinary and loving family, is immensely moving. It is also very beautiful; Satrapi's drawings have the power of the very best woodcuts.
Book here: https://www.eventbrite.co.uk/e/banned-book-club-persepolis-with-cllr-maryam-eslamdoust-mayor-of-camden-tickets-97318715899
See you there!
Related Events